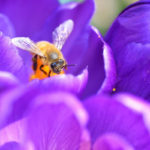 In his book Bee Time: Lessons from the Hive, Mark Winston shares ten lessons from bees that may be useful as we navigate the weeks ahead.
Use teamwork
Bees are flexible and adaptable. In that spirit, the Healing Beyond Borders office will be telecommuting until further notice. All of our staff will continue with their work of supporting the organization while practicing public health recommendations to help "flatten the curve" in the Denver area, which has a significant number of confirmed cases of COVID-19. During this time, please be patient.
Do good, for goodness' sake
Bees pollinate without thinking of how their simple actions support an ecosystem. In the spirit of flattening the curve and public health, I ask that you consider your upcoming class schedules. It may be wise to cancel some of your upcoming classes as well as practice groups in March and early April. I recognize that this is not ideal. As you are aware, many universities and public schools across the globe have closed for the next few weeks to minimize risk of exposure and spreading the virus, as well as overburdening the health care system.
Be efficient
Bees do not multitask. They are laser focused. With all of the anxieties and fears out there, it is easy to get distracted and overwhelmed. Breathe into your core. Practice what you know in an effort to maintain your focus and your ability to prioritize.
Live within your means
Bees are Nature's boy and girl scouts. They're prepared. We've all seen the scenes from stores and shops of overzealous folks buying up supplies in a panic. Do what you need to do support yourselves and your families, being mindful of others.
Evolve
Bees are not discouraged by change. We know how to adapt and follow the energy. Now is the time to use our skills to help ease ourselves and those around us through this time of transition.
Seize the day
Bees never stop learning. Practice social distancing to protect yourselves, your family, and your community. During that time, use your skills of reflection and meditation. Read that book you've been meaning to get to. Take a free online course.
Live you work ethic
Bees are responsible. Now is surely the time for us to "walk our talk"-to be a healing presence for ourselves and others.
Be a true leader
Bees practice servant leadership. If possible, find ways to support your local community and your Healing Touch community. Send a donation to a food bank. Set up a Healing Touch discussion group via Skype. There are many ways in which we can demonstrate our leadership strength through service.
Communicate well
Bees stay informed and stay in contact. We cannot disconnect from each other completely. We have to stay informed from reputable sources. And we must prevent social isolation during this time of social distancing.
Take time to rest
Despite popular opinion, bees take time off to recharge. You cannot pour from an empty cup. We know that. We must continue to show that.
During this pandemic, I am encouraged, inspired, and grounded in the knowledge that I am part of a global community of healers who do not give up when the going gets rough. Who have a set of skills unlike most to affect energetic change. And who care about our planet and those beings who live here. I am exceedingly grateful for your compassion, wisdom, leadership, service, and commitment to the mission of Healing Beyond Borders.